Biografy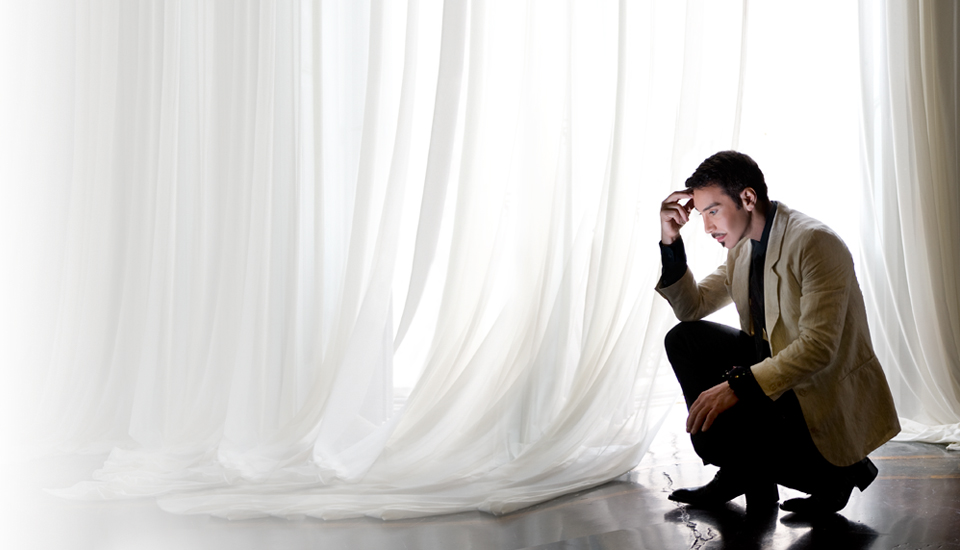 Alfredo Nocera made his debut performance at the age of 19, in a successful show called: "UNA FAVOLA PER BAMBINI ADULTI".
The ten characters represented in his number, have the particularity of a complete costume change in a few seconds.
Each character is enriched with a few prestigious games, humor and dances.
Besides being a choreographer, and designer of costumes, he also interpreted the brilliant comedy:
"IN SOFFITTA DA NATHALIE", with Piero Chiambretti and Laura Belli, record by Riccardo Donna.
In 1981"THE BLUE BOYS" is born, created by Alfredo Nocera. A small musical formed by 3 people. The show consists of variety of entertainment styles from dance, comedy and acting to cabaret and folklore.
Alfredo Nocera invents"INSTANT FASHION", a special show inspired by his fantasy, and love for fashion. Using a normal piece of fabric, without cutting or sewing, he can create in seconds, a fantastic evening dress on his models, with just one or two pins.
Over the years Instant Fashion has grown up and developed constantly; new sets of creations such as: "L'EVOLUZIONE DELLA MODA", "IL GIRO DEL MONDO" and "CARNEVALE HISTORY" have enriched its repertoire; in 2005 "TRENCH" came up. Unlike regular Instant Fashion show, this time Nocera does not use pieces of fabric as usual but he creates dresses from what he wears himself on stage, transforming his tie, his trousers, sleeves and the trench itself into beautiful evening dresses.
In 2010 on the occasion of his debut at TEATRO NUOVO of Milano, with the show called "MODAMORE", the new "CHAPEAU" comes on stage. It is an incredible set of changing: one model, one dress and just one hat which gives life to 9 different creations.
ITALIAN NATIONAL TV
"DOMENICA IN" (RAI 1). International fashion for actress-model, Maria Grazia Cucinotta, Alba Parietti, Lorella Cuccarini, Pamela Prati, Claudia Gerini, Sofia Bruscoli.
"BUONA DOMENICA" (CANALE 5). Conducted by: Lorella Cuccarini, Claudio Lippi, Paola Barale and Maurizio Costanzo. Repeatedly invited to propose original fashion designs for exceptional models such as, Melba Ruffo, Juma, Roberta Lanfranchi, Helena Seredova, Alessia Fabiani, Rossella Brescia ….
"I FATTI VOSTRI"(RAI 2). With Giancarlo Magalli and Adriana Volpe.
"COMINCIAMO BENE" (Rai 3). Conducted by: Frabrizo Frizzi and Elsa Di Gati.
"TRENTA ORE PER LA VITA" (ITALIA 1).Telethon with Marco Columbro and Cristina Parodi.
"UNO MATTINA" (RAI 1).An Instant Fashion Course. How to understand fashion by knowing fabrics.
"SERATA MONDIALE" (RAI 1). A program for World Cup fans, with the exceptional model, Valeria Marini.
"TELETHON" (RAI 1). Where with single 4 dresses it recalls the fashion of a century. "The Evolution of Fashion".
"CAMPIONI DI BALLO" (RETE QUATTRO). Two editions, presented by Amadeus and Natalie Estrada. Themes include: costumes from around the world, festival of dances, and strange and unusual fabrics.
"UN DISCO PER L'ESTATE" (RAI 1). Three galas conducted by Pippo Baudo. Central Theme is "Summer" and instant gowns are worn by exceptional models like Clarissa Burt, Carol Alt, Pamela Prati and Nadia Rinaldi.
"CASA PER CASA" (TMC). This time instead of using models he transforms a normal chair into luxury furniture.
"SOLLETICO" (RAI 1). Conducted by M. Serio and E. Ferracini, Alfredo creates fantasies for children.
"BIGLIETTO D'INVITO" (RAI 1). Conducted by Milly Carlulcci.
"GENTE COMUNE" (CANALE 5). He gave tips to viewers on how to make an instant New Years evening gown.
"ESTATE 5" (CANALE 5). With Iva Zanicchi. Alfredo demonstrates different ways to wear a sarong.
"SIMPATICISSIMA" (CANALE 5). He personally assists'Ramona dell'Abate, and Patrizia Rossetti.
"SEGRETI PER VOI" (RAI 2). Useful advice program for housewives.
"PARTITA DOPPIA" (RAI 1). With Pippo Baudo, model Clarissa Burt.
"BELLEZZE AL BAGNO" (CANALE 5). Summer pilot with Hether Parisi and Giorgio Mastrota.
"LA NOTTE DELLE STEGHE" (RAI 1). Alfredo reinterprets his Witches of the past, present and future.
"KARAOKE" (ITALIA 1). Fiorello, a telethon with Federica Panicucci, 12 instant gowns to advertise Jocca by Kraft, For the first time Alfredo proposes using fruits and vegetables instead of traditional fabrics.
"IL PIU' BELLO D'ITALIA" (RAI 1). A male beauty competition, featuring Alfredo's designs on his models.
"OK IL PREZZO E' GIUSTO" (CANALE 5), With Iva Zanicchi.
"NON E' LA RAI" (ITALIA 1). He dresses the youngest of his models, Ambra.
"ROBA DA MATTI" (ITALIA 1). Invited by Gerry Scotti and Lello Arena. During the transmission he performs his "Instant Fashion Show ", and he creates 50 evenig dresses.
"GRAN PREMIO" (RAI 1). His claim to fame as a nationally known artist was made possible by the famous TV EmCee, Pippo Baudo, during which Alfredo performed a very original number.
"RAFFAELLA CARRA' SHOW" (CANALE 5). Alfredo with his transformist show was chosen to be a permanent guest for the entire season on her famous program.
"FESTIVAL DEL CABARET DI LOANO" (ITALIA 1). He participated with is quick change show.
INTERNATIONAL TV
Special guest star.
"STAR DE NOCHE"and"FIESTA DE FIN DE AÑO" (TELE CINCO) Spain.
"LAS MIL Y UNA" (CANAL 9) Spain.
"HOLA RAFFAELLA" (TVE) Spain. Several appearances. This very successful program conducted by Raffaella Carrà.
"SORPRESA SORPRESA" (ANTENNA 3) Spain. Conducted by Isabel Genio.
"GENETAION GAME JEM DAVID SON'S" (BBC ONE) London. Game show where contestants must imitate the creations of Alfredo made during his exhibition on the show.
"DROLE DE JEU"(TF 1) France. Comedy program conducted by La Gaffe.
"LUNA PARK" (Portoguesr TV). Italian format.
"FANTASTICO" (TV Greca). A successful Italian program made for Greek TV.
"POP TV" (POP TV) Slovenia. Musical variety with international guests.
"TOMBOLA" (SWISS TV) New Years Eve show.
"UNA VEZ MAS" (CHANNEL 13) Santiago, Chile.
"EL TIEMPO ES ORO" (CHANNEL13), Santiago, Chile.
"MISS VIÑA DEL MAR" (TV CHILE) Santiago, Chile. Dressed all contestants for the Miss pagent.
"CORAZON PARTIDO" (TV NATIONAL DE CILE).Santiago, Chile.
"FESTIVAL DEL HUMOR" (TV CARACOLA). Bogotà, Colombia.
A very successful tour in "SINGAPORE". a TV-show, theaters, convention, and star on musical show.
Special guest in "FASHION DESIGNER AWARD" (TV MALTA).
LIVE SHOW
"MODA TOUR", Italian tour were Alfredo conducted the show.
"THE EVOLUTION OF FASHION". Starred in and conducted the Italian tour:
"THE COLORS OF MUSIC" (Sponsored by RADIO 105).
Conducted with Natalia Estrada the italian tour "RADIO FASHION TOUR", with (RADIO 101).
Conducted the program togehter with Natalie Caldonazzo, "RADIO 101 MODA SHOW".
Interprets designer and conductor with Luisa Corna on italiano tour "RADIO MONTECARLO FASHION SHOW".
"CONCERTO ARANCIO", (Sponsored by ING-DIRECT Bank) Italian tour where Alfredo is the warm-up act for the concert: Alexia, Spagna, Mattia Bazzar, Nomadi, Articolo 31, Cesare Cremonini, Enrico Ruggeri, Eugenio Bennato... His show reflects the company's publicity shown in continents around the world.
He performs in "FESTIVAL DELLA CANZONE SICILIANA", Regional Sicilian song festival.
Transforms the famous "BARBIE", wardrobe into human fashion with real models.
"COSTA CROCIERE". Repeatedly invited special guest in the theaters of this luxury line, his versatile language skills permit him to flatter audiences of all nationalities.
MOREOVER HE WINS AWARDS LIKE
PREMIO TRINACRIA D'ORO (London)
WORLD TOP MODEL (Zurig)
POLIFEMO (Zafferana - CT)
AGENDA DONNA (Campione d'Italia)
TOP SPRINT (Catania)
INTERNATIONAL MODEL (Milano)
MUSICAL-ARTISTI DA PALCOSCENICO e MILAZZO ARTE (Milazzo - ME)
GABICCE ROSA (Rimini)
PREMIO FEDERICO II (Oria - Brindisi)
4°RASSEGNA CINEMATOGRAFICA (San Gineto - CS)
CONVENTION, INDUSTRIAL SHOW
CARLSBERG, MOET, SMIRNOFF, COINTREAU, PARAH, MERCEDES BENZ, PIONEER, WELLA, RAVENSBURGER, HONDA, MINOLTA, L'OREAL, MELEGATTI, GARNIER, ZEISS, LANCÔME, VOLVO, TORO ASSICURAZIONI, TELECOM, LANCIA, PUPA, MASERATI, HUSQVARNA, FIAT, ITAL-AQUE, OLIVETTI…